Why Choose the Bermuda Aircraft Registry?
When it comes to registering your aircraft, we understand you have a selection of registries to choose from. The Bermuda Aircraft Registry is committed to being the registry of choice, based on our efficient procedures, capable and knowledgeable staff, and global presence.
Bermuda's Aircraft Registry has earned a solid reputation internationally for being safe and well-regulated. It is owned and managed by the Bermuda Civil Aviation Authority (BCAA), which is in full compliance with the Standards and Recommended Practices (SARP) of the International Civil Aviation Organisation (ICAO).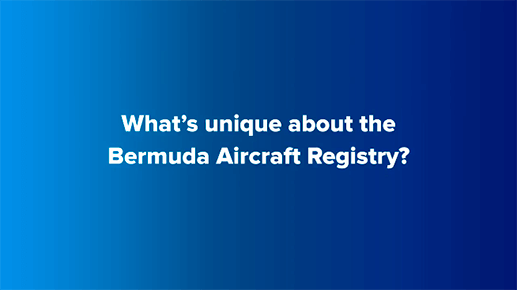 The Bermuda Aircraft Registry includes a mix of private and commercial aircraft operated on a Bermuda Air Operator's Certificate (AOC) or under Article 83 bis Agreements of the Convention on International Civil Aviation (also referred to as the Chicago Convention).
Our registry offers a host of benefits, including:
COMPETITIVE FEES
The BCAA recently revised our fee schedule, resulting in significant reductions in some areas. Placing your next aircraft on the Bermuda Aircraft Registry could lower your costs considerably. A detailed cost comparison with other registries may be provided upon request. Find out more about BCAA's recent fee reduction here.
TIMELINES
Following document review and the completion of inspections, approval can be issued within 48 hours. For operational circumstances that require a more urgent turnaround time, a request may be made and the Bermuda Aircraft Registry will make every effort to accommodate. The regulatory service response standard provides guidance for all of the Bermuda Aircraft Registry service functions.
SERVICE DELIVERY
Inspectors are based in offices in Bermuda and the United Kingdom. Our Airworthiness team is complemented by more than 20 Designated Airworthiness Inspectors who are strategically located throughout the world. Our Flight Operations Inspectors based in Bermuda are joined by two Designated Flight Operations Inspectors in strategic locations worldwide. In addition, BCAA has engaged Bureau Veritas (BV) for many years to conduct inspections and oversight on its behalf, from offices based in Toulouse and Shanghai.
TRANSFERRABLE STANDARDS
BCAA accepts Type Certificates from the ANAC (Brazil), EASA, the FAA and Transport Canada. Aircraft from another registry can be registered in Bermuda easily with minimal expense, and if subsequently sold, it can be simply exported to another jurisdiction.
CAPE TOWN CONVENTION / MORTGAGE REGISTER
As of 1st January 2018, the Cape Town Convention and the related Protocol (Convention) came into effect. The Convention is an international legal framework (recognised in all Contracting States) that enables interested parties to protect and recover their mobile assets with greater certainty and ease.
A Mortgage Register is also available to aircraft financiers. By registering a mortgage, aircraft financiers may obtain priority over unsecured creditors, take possession of aircraft in the event of a default by the owner or borrower and sell the aircraft to recover funds to satisfy the lender's debt.
TAX NEUTRALITY
Bermuda has zero income, corporate, withholding or capital gains taxes. By registering an aircraft in Bermuda, owners and operators may be in a position to take advantage of favourable tax treatment in their principal place of business.